Classes
Adventure
Fast Facts
4 years old by Sept. 1
Monday, Wednesday and Friday
8:30 AM to 11:30 AM
5-day available in combination with Voyagers
The teachers in the Adventure classes focus on guidance of rapidly blossoming social relationships (whether encouraging friendships or helping to resolve differences), helping instill self-control, and nurturing the decision-making process.
The groups of playmates are larger and attention spans have broadened to allow for projects spanning a few weeks. The children are also exposed in an age-appropriate way to academics. Activities such as baking, making play dough and silly putty, and circle time with books and discussions are the common ways to present math, science and literacy.
---
Discovery
Fast Facts
3 years old by Sept. 1
Monday, Wednesday and Friday
8:30 AM to 11:30 AM
5-day available in combination with Voyagers
This class focuses on helping children cope with separation, learn to work and play with other children, trust teachers and respond to their guidance, and feel good about themselves and their abilities in a school setting. This is accomplished by a very loving, warm and nurturing staff who encourage play, experimentation, and discovery for each child.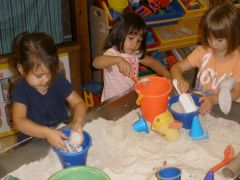 A theme of family, friends and pets is interwoven into the classroom throughout the year. At this young age math and science are introduced using counting games, music, cooking and simple experiments. Language arts consist of stories, rhymes, songs, and opportunities to use drawing and writing materials such as crayons, markers, pencils and scissors.
---
Voyagers
Fast Facts
3-5 years old by Sept. 1
Tuesday and Thursday
8:30 AM to 11:30 AM
5-day available in combination with Adventure or Discovery
Benefits of mixed age grouping are that the younger child has many role models to learn from, while the older child develops self-confidence and leadership skills. It also provides an appropriate setting for the very talented young child who benefits from enrichment. The "only child" benefits from the opportunity to play with both older and younger children.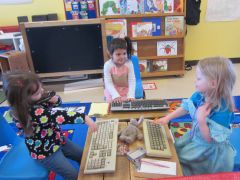 The program is planned with all age groups in mind, incorporating activities which can be simple for the younger child, but which have scope for the child who is ready for a longer, more involved project.
---
Pioneers East and Pioneers West
Fast Facts
3-5 years old by Sept. 1
Monday through Friday
12:30 PM to 3:00 PM
Pioneers classes are part of the Illinois State Board of Education (ISBE) Preschool For All Program and are available to eligible students per ISBE guidelines.

These classes are mixed age groups that focus on children's language development, social skills, foundational academic skills, and motor skills. Language arts, math, science and social studies knowledge are developed through direct experiences and hands-on activities in age-appropriate ways.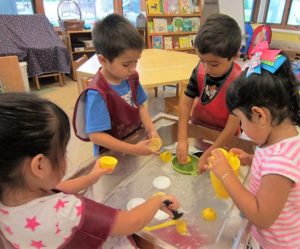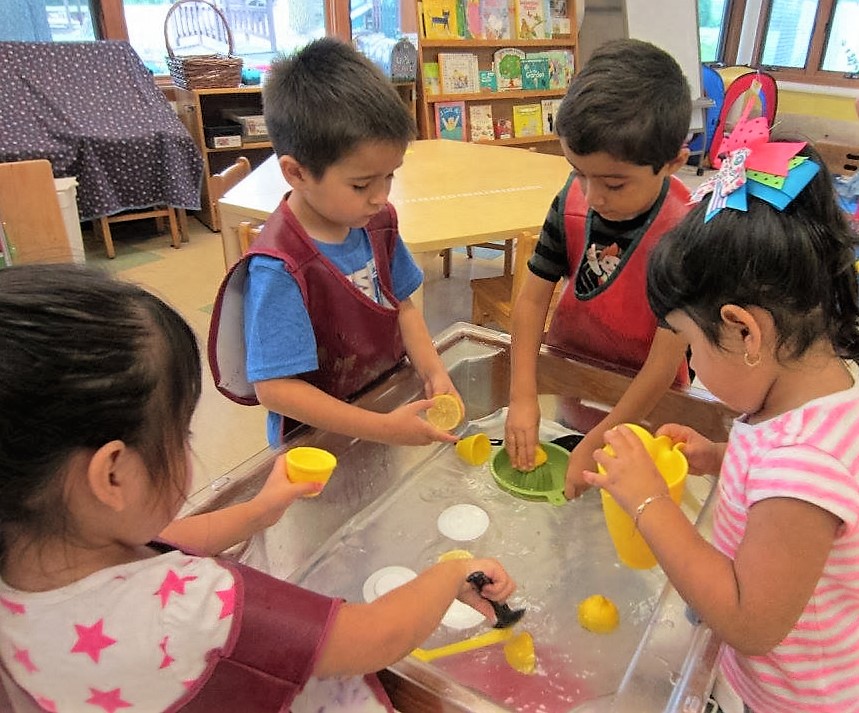 Children follow classroom routines and learn cooperation skills. Playing and experimenting with materials in their environment, children gain independence, learn how to interact with peers and teachers, enhance creativity, and develop critical thinking skills.
---
Explorers
Fast Facts
2 years old by Sept. 1
Tuesday and Thursday
9:00 AM to 11:00 AM
---
Scouts (formerly Early Explorers)
Fast Facts
20-36 months old with parents
Saturday
9:30 AM to 11:00 AM
This weekly class is an opportunity for children 20-36 months old and their parents/guardians to participate together in planned activities. These will include rhythm activities, story time, large motor experiences, sensory experiences, and manipulative projects. The children also, with parent and teacher guidance, learn to play with other children.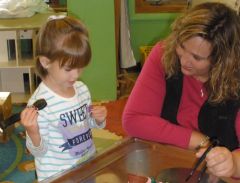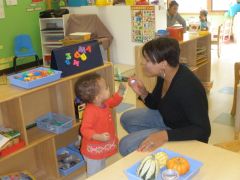 ---
Summer School
Fast Facts
3-5 years old
Separate 1-Week Sessions: Monday through Thursday
8:30 AM to 11:30 AM
Summer Camps are for children age 3 to 5 years old. We offer six one-week sessions, each with a specific theme. Our summer camp curriculum is held in our outdoor learning environment (weather permitting). Snack will be provided.
Camping Theme — June 12-15, 2017
Come enjoy camping activities such as "catching a fish", "cooking on the fire" and "sitting under the stars" at camp.
Dinosaurs Theme — June 19-22, 2017
Dinosaurs are fascinating to children! We will make dinosaur footprints, dig for bones and erupt volcanoes.
Pond Theme — June 26-29, 2017
What lives in a pond? Use a net to search the "pond" for creatures.
Science/Bugs Theme — July 10-13, 2017
Explore the spectacular world of science. Run with butterfly catchers and explore the world of bugs.
Sports Theme — July 17-20, 2017
Tumble on a mat, ride a bike, kick a soccer ball and hit a baseball with a bat.
Castles Theme — July 24-27, 2017
A magical journey through Camelot stories, crafts, and projects will be full of fantasy fun and captivate your child's imagination.