Honors & Recognitions
We are one of the few preschools in Waukegan and the surrounding area that is accredited by the National Academy of Early Childhood Programs, a division of the National Association for the Education of Young Children (NAEYC). This honor was earned by AAUW through its hard work and dedication to the education and well-being of children aged two through five, and is your assurance that at AAUW your child will have the best that early childhood education has to offer.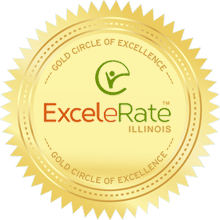 We received the Gold Circle of Quality designation from ExceleRate Illinois, the state's new quality rating and improvement system for early learning and development providers. ExceleRate Illinois is a comprehensive system that includes Licensed Child Care Centers, Preschool for All and Center-Based Prevention Initiative Programs, Head Start and Early Head Start Programs. Licensed Family and Group Child Care Homes will be included next year. For more information or to find a Child Care Resource & Referral Agency in your area, visit www.ExceleRateIllinois.com.
We are licensed by the Department of Children and Family Services (DCFS) and have been awarded the "Preschool For All" Early Childhood Block Grant each year since 2007.